By: Hailey Farrow, Marketing Manager on behalf of CostQuest Associates.
Planning for NTIA's Broadband Equity, Access, and Deployment program (BEAD) funding program is a lengthy endeavor and Eligible Entities are currently heads down in the application process. As of March 2023, entities are in the 3rd out of 10 BEAD funding program phases, which is the BEAD Five-Year Action Plan phase.
The Five-Year Action Plan is where Eligible Entities (All fifty states, the District of Columbia, and Puerto Rico, as well as U.S. Territories) that receive Initial Planning Funds, must create and submit a Five-Year Action Plan within 270 days of receiving Initial Planning Funds.
Below is a high-level breakdown of what the BEAD Five-Year Action Plan phase is and the 13 requirements the plan should include as listed in NTIA's BEAD NOFO.
About the BEAD Five-Year Action Plan Phase
For background, to receive BEAD funding from NTIA, States, and Territories must participate in the following 10 BEAD funding program phases:
Letter of Intent – Done
Request for Initial Planning Funds – Done
Five-Year Action Plan
Program Fund Allocation and Notice of Available Amounts
Initial Proposal
Challenge Process
Subgrantee Selection Process
20 Percent Funding Release
Final Proposal and Release of Remaining Funds
Ongoing Monitoring, Reporting, and Performance Management
An Eligible Entity that receives Initial Planning Funds must submit a Five-Year Action Plan that outlines the "State or Territory's broadband goals and priorities and serves as a comprehensive needs assessment that will inform their Initial Proposal."
The purpose of the Five-Year Action Plan is for an Eligible Entity to identify their communities:
Broadband access
Equity and adoption needs
Adopt strategies, goals, and initial measures
To meet all these needs using BEAD and other grant funds.
The BEAD Five-Year Action Plan must include the following 13 pieces of information
Per NTIA's BEAD NOFO, at a minimum, an Eligible Entity's Five-Year Action Plan must include the following information:
1. Details on the existing broadband program
Or office within the Eligible Entity, including any activities that the program or office currently conducts, any previous entity-wide plans or goals for the availability of broadband, and any prior experience awarding broadband deployment grants.
2. Identify the funding that the Eligible Entity currently has available for broadband deployment
Along with other broadband-related activities, including data collection and local planning, and the sources of that funding, including whether the funds are from the Eligible Entity or from the federal government.
3. Identify existing efforts funded by the federal government
Including the Universal Service Fund, or an Eligible Entity to deploy broadband and close the digital divide.
4. Identify the current full-time and part-time employees of the Eligible Entity who will implement and administer the BEAD Program
Along with the duties assigned to those employees, as well as any existing contracted support, and any planned expansion of employees or contractors.
5. Identify known or potential obstacles or barriers
To the successful implementation of the BEAD Program and the Eligible Entity's corresponding plans to address them.
6. Include an asset inventory that catalogs broadband adoption, affordability, equity, access, and deployment activities
That is occurring within the Eligible Entity and identifies and provides details regarding any relevant partners, such as community-based organizations and CAIs that may inform broadband deployment and adoption planning.
7. Include a description of the Eligible Entity's external engagement process
That demonstrates collaboration with local, regional, and Tribal (as applicable) entities (governmental and nongovernmental) and is reflective of the local coordination requirements outlined herein, including outreach to underrepresented communities and unions and worker organizations. The engagement required must be undertaken both during the development of the Five-Year Action Plan itself and following the submission of the plan, reflecting ongoing collaboration throughout the BEAD Program.
8. Incorporate available federal, Eligible Entity, or local broadband availability and adoption data
Including but not limited to Affordable Connectivity Program enrollment data. Other federal broadband federal data sources include the NTIA Internet Use Survey, the NTIA Indicators of Broadband Need Map, and the American Community Survey.
9. Identify local and regional broadband service needs and gaps
That falls within the Eligible Entity's boundaries, including unserved or underserved locations and Community Anchor Institutions (CAIs) without gigabit service, and/or any plans to make these determinations where service availability is unclear.
10. Provide a comprehensive, high-level plan for providing reliable, affordable, high-speed internet service throughout the Eligible Entity
Including:
a) The estimated timeline and cost for universal service,
b) The planned utilization of federal, Eligible Entity, and local funding sources,
c) Prioritization of areas for federal support,
d) Any consideration afforded to the use of public-private partnerships or cooperatives in addressing the needs of the Eligible Entity's residents,
e) Strategies to address affordability issues, including but not limited to strategies to increase enrollment in the Affordable Connectivity Program by eligible households;
AND
f) Strategies to ensure an available and highly skilled workforce (including by subgrantees, contractors, and subcontractors) to minimize project disruptions, including any plans to ensure strong labor standards and protections, and plans to attract, retain, or transition the skilled workforce needed to achieve the plan's goals, including describing the involvement and partnerships of sub-grantees, contractors, and sub-contractors with existing in-house skills training programs, unions, and worker organizations; community colleges and public school districts; supportive services providers; Registered Apprenticeship programs and other labor-management training programs, or other quality workforce training providers.
11. Identify digital equity and inclusion needs, goals, and implementation strategies
Including ways in which the Eligible Entity plans to utilize BEAD funding, Digital Equity Act funding, and/or other funding streams in concert to remedy inequities and barriers to inclusion. Accordingly, the Five-Year Action Plan should set forth a vision for digital equity, including the results of a needs assessment for underrepresented communities and an asset inventory of ongoing digital equity activities, and detail holistic strategies around affordability, devices, digital skills, technical support, and digital navigation. This requirement may be satisfied by the completion of a State Digital Equity Plan under the Digital Equity Act.
12. Detail alignment of the Five-Year Action Plan with other existing and planned economic development, telehealth, workforce development, and related connectivity efforts
Along with other Eligible Entity priorities.
13. Describe technical assistance and additional capacity needed for the successful implementation of the BEAD Program.
Additional notes:
The Assistant Secretary published an online template for the Five-Year Action Plan. Using this template is optional. Click here for the template or on the image below.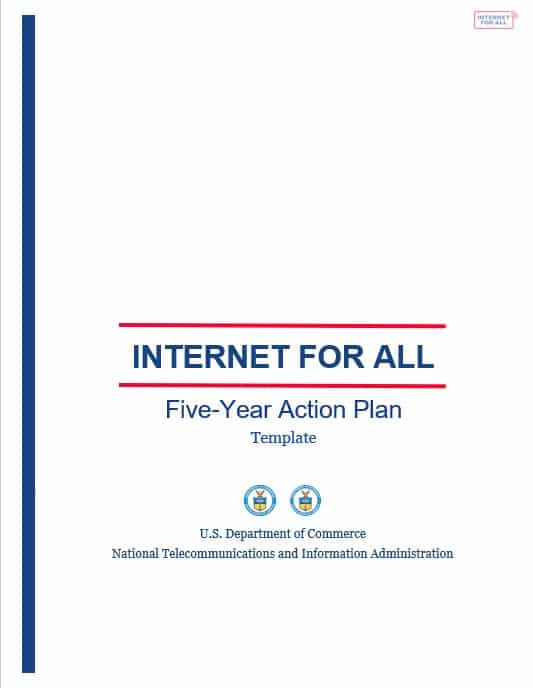 Example of the Five-Year Action Plan Template.
"The Five-Year Action Plan that an Eligible develops for the BEAD Program should incorporate the Eligible Entity's State Digital Equity Plan. The Initial Proposals and Final Proposals developed for the BEAD Program should be informed by and be complementary to the Eligible Entity's Five-Year Action Plans and State Digital Equity Plans to address the goal of universal broadband access and adoption."
Read NTIA's BEAD NOFO for more information
Disclaimer
This communication does not reflect the opinion or the policy of the National Telecommunications Information Administration or the Federal Communications Commission. NTIA and the FCC are not responsible for the information or views in this communication and are not responsible for the accuracy, completeness, or timeliness of such information or views.
Continue Reading