By: Hailey Farrow, Marketing Manager & Zac Byrd, Marketing Associate on behalf of CostQuest Associates.
The Broadband Equity, Access, and Deployment (BEAD) Program is a once-in-a-lifetime broadband investment, offering $42.45 billion to states and territories to support broadband deployment projects to unserved and underserved areas across the U.S. Once states and territories are awarded BEAD funds, the funding will eventually flow down to the sub-grantees of the state to carry out the broadband deployment activities outlined in the state or territory's grant program.
The BEAD program is the largest investment in broadband to date and likely will be the last (at least in our lifetime), making it absolutely important that funding is leveraged to its highest potential to reach the goals of the BEAD program.
A program of this size must be abundantly clear with what the funds may be used for, and it all starts with the planning and pre-deployment phases of each broadband program. Below is a short breakdown of how BEAD funds will be divided, what BEAD funding is eligible to support (per NTIA's BEAD NOFO), and where to start in terms of selecting potential planning and pre-deployment activities to use BEAD funding toward.
How will the BEAD funds be divided?
Before we talk about what BEAD funding can support, let's go over how BEAD funding will be divided. NTIA's Assistant Secretary will work in close coordination with FCC to choose a date for which the Broadband DATA Maps (National Broadband Map) will be utilized to identify unserved locations in each state and territory by the "Allocation Date", projected to be June 30th, 2023.
Each Eligible Entity's Total BEAD Allocation will be the sum of the Eligible Entity's:
Minimum Initial Allocation
High-Cost Allocation
Remaining Funds Allocation
Minimum Initial Allocation
Each state is eligible to receive a minimum of $100,000,000, whereas each territory is eligible to receive a minimum of $25,000,000. Individual states are able to request up to $5,000,000 of their minimum allocation to be used as Initial Planning Funds. Territories may request up to $1,250,000 for the same purpose.
High-cost Allocation
The High-Cost Allocation is a critical component of the BEAD funding distribution model. It is based on the number of unserved locations in each eligible entity's (states and territories) high-cost areas, then compared to the total number of unserved locations in high-cost areas across the United States based on the FCC's broadband map.
This quotient will then be multiplied by $42.45 billion. By targeting these areas, the BEAD funding aims to provide broadband access to Americans in rural or remote locations where broadband deployment is more expensive and less attainable.
Remaining Funds Allocation
The remaining funds are the amount each eligible entity receives after the Minimum Initial Allocation and High-Cost Allocation have been subtracted from the $42.25 billion. After the Initial Planning period, the remaining BEAD funds will be distributed to the states and territories based on the "relative number of 'unserved' locations (Broadband Serviceable Locations that lack access to reliable broadband service at speeds of at least 25 Mbps downstream and 3 Mbps upstream and latency levels low enough to support real-time, interactive applications) in each State and U.S. Territory".
This figure is calculated by dividing the total number of unserved locations in the eligible entity by the total number of unserved locations across the United States, multiplied by the result of Remaining Funds.
How can BEAD Initial Planning Funds be used?
Initial Planning Funds may be used for the following Core planning and pre-deployment activities:
Research and data collection, including initial identification of unserved locations and underserved locations consistent with the rules, regulations, and process the Commission has established for making these determinations in the Broadband DATA Maps.
The development of a preliminary budget for pre-planning activities.
Publications, outreach, and communications support related to broadband planning, deployment, mapping, equity, and adoption.
Providing technical assistance to potential sub-grantees, including through workshops and events.
Training for employees of the broadband program or office of the Eligible Entity or employees of political subdivisions of the Eligible Entity, and related staffing capacity or consulting or contracted support to effectuate the goals of the BEAD Program.
Establishing, operating, or increasing the capacity of a broadband office that oversees broadband programs and broadband deployment in an Eligible Entity.
Asset mapping across the Eligible Entity to catalog broadband adoption, affordability, equity, access, and deployment activities occurring within the Eligible Entity.
Conducting surveys of unserved, underserved, and underrepresented communities to better understand barriers to adoption.
Costs associated with meeting the local coordination requirements in Section IV.C.1c of this NOFO include capacity building at the local and regional levels or contracted support.
Other uses approved in advance writing by the Assistant Secretary (including in response to an Eligible Entity's request) that support the goals of the Program.
How can the main BEAD program funding allocations be used?
When developing the Initial Proposal, keep in mind that states and territories MAY USE grant funds for the following:
Deploying and/or upgrading broadband network facilities in connection with an Unserved Service Project or an Underserved Service Project.
Deploying and/or upgrading broadband network facilities to provide or improve service to an eligible community anchor institution.
Data collection, broadband mapping, and planning to the extent necessary beyond the planning fund allocation to facilitate the goals and deliverables of the BEAD Program.
Installing internet and Wi-Fi infrastructure or providing reduced-cost broadband within a qualifying low-income multi-family residential building. Priority is given to a residential building that has a substantial share of unserved households or is in a location in which the percentage of individuals with a household income at or below 150% of the poverty line. Applicable when the family size involved is higher than the national percentage of such individuals.
Broadband adoption, including programs to provide affordable internet-capable devices.
Training and workforce development.
Other uses, including other Digital Equity programs not already included above, proposed by Eligible Entities and approved in advance in writing by the Assistant Secretary that support the goals of the BEAD Program.
How can I start planning and what should I use the BEAD program's funds toward?
There are a lot of planning, pre-deployment, and deployment activities states and territories can use BEAD program funds towards. But, where do you start when it comes to selecting the best planning and pre-deployment activities to allocate these funds to?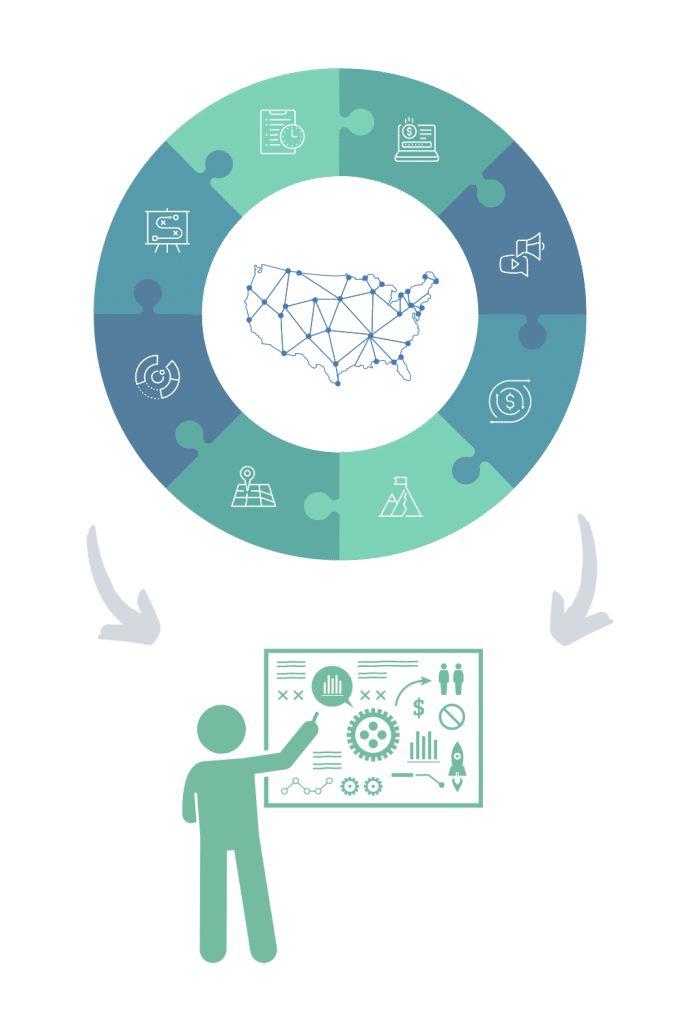 Below are some ideas to use your funding towards based on our suggested broadband expansion planning steps:
Step 1: Build your state broadband program office with the core competencies needed to successfully implement your broadband program. See our Building a State Broadband Team page for more in-depth information on what core competencies to acquire.
Step 2: Acquire reliable data and build granular location-level broadband maps that can effectively inform your broadband expansion planning decisions. See our State Broadband Mapping page and What Data You Need for Effective Broadband Plans and Maps for more in-depth information to support this step.
Step 3: Use your broadband maps to identify and qualify locations near your existing service area that need broadband services.
Step 4: Understand bandwidth demand trends from consumers and aim for high-speed broadband connectivity solutions, such as Fiber. Also, identify which areas may require alternative high-speed connectivity solutions.
Step 5: Build a comprehensive business case and cost model outlining the initial investment needed, capital expenditure, operating expenses/cost to maintain over time, adoption take rates, and revenue potential. See our Calculating Network Cost and Step 4 of the 7 Tips for Broadband Expansion Planning articles for more information to support this step.
Step 6: Identify what unserved and underserved locations are already covered under existing funding programs such as CAF and RDOF.
Step 7: Identify if you need additional funding sources to help subsidize costs for high-cost areas and maintain the network over time.
Step 8: States and Territories are in various stages of the planning process, so you will want to cater planning activities according to your program's current planning phase. Many entities are in the Five-Year Action Plan phase, and coming up next will be the announcement of BEAD funding allocations, which will initiate the Initial Proposal phase. The remaining BEAD program phases are as follows:
Five-Year Action Plan (Current phase as of May 2023)
Program Fund Allocation and Notice of Available Amounts (June 30th, 2023)
Initial Proposal
State Challenge Process
Subgrantee Selection Process
20 Percent Funding Release
Final Proposal and Release of Remaining Funds
Ongoing Monitoring, Reporting, and Performance Management
Final thoughts
It's important to keep in mind the goal of these funds is to support broadband planning, infrastructure deployment, and work alongside broadband adoption programs to achieve the goal of closing the divide between those who have broadband access and those who don't, regardless of where people live and work. While also working to support future-proof infrastructure development that can hold the bandwidth needs of tomorrow, as the demand for high-speed internet access continues to rise due to technological advancements.
However, selecting the appropriate planning activities and resources for your broadband program to reach these goals is not easy, and takes into account various components that will eventually become the foundation of your broadband program. The more precise and clear you can be in what you use your initial BEAD planning and main BEAD funds towards, the more likely you will be in selecting the appropriate planning, pre-deployment, and deployment activities most beneficial to your broadband program and projects.
If you have any questions or need support with broadband expansion planning, feel free to get in touch, we're here to help.
Resources:
Disclaimer
This communication does not reflect the opinion or the policy of NTIA. NTIA is not responsible for the information or views in this communication and is not responsible for the accuracy, completeness, or timeliness of such information or views.
Continue reading