The Journey to Close the Broadband Digital Divide Continues
By: Hailey Farrow, Marketing Manager & Zac Byrd, Marketing Associate on behalf of CostQuest Associates
Well folks, the highly anticipated announcement of the Broadband, Equity, Access, and (BEAD) program grant allocations is finally here!
Today marks a significant milestone in the quest to help close the digital divide for all Americans, as the White House, the U.S. President, Vice President, and Secretary of Commerce Gina Raimondo announced the grant allocations for the $42.5 Billion Broadband, Equity, Access, and Deployment program (BEAD) program. This program is a part of the Bipartisan Infrastructure, Investment, and Jobs Act and the Investing in America Agenda.
The Department of Commerce's National Telecommunications and Information Administration (NTIA) released how it has "allocated funding to all 50 states, the District of Columbia, and five territories to deploy affordable, reliable high-speed Internet service to everyone in America."
See the BEAD allocations for each Eligible Entity below:
| State | BEAD Allocation Amounts |
| --- | --- |
| Alabama | $1,401,221,901.77 |
| Alaska | $1,017,139,672.42 |
| Arizona | $993,112,231.37 |
| Arkansas | $1,024,303,993.86 |
| California | $1,864,136,508.93 |
| Colorado | $826,522,650.41 |
| Connecticut | $144,180,792.71 |
| Delaware | $107,748,384.66 |
| District of Columbia | $100,694,786.93 |
| Florida | $1,169,947,392.70 |
| Georgia | $1,307,214,371.30 |
| Hawaii | $149,484,493.57 |
| Idaho | $583,256,249.88 |
| Illinois | $1,040,420,751.50 |
| Indiana | $868,109,929.79 |
| Iowa | $415,331,313.00 |
| Kansas | $451,725,998.15 |
| Kentucky | $1,086,172,536.86 |
| Louisiana | $1,355,554,552.94 |
| Maine | $271,977,723.07 |
| Maryland | $267,738,400.71 |
| Massachusetts | $147,422,464.39 |
| Michigan | $1,559,362,479.29 |
| Minnesota | $651,839,368.20 |
| Mississippi | $1,203,561,563.05 |
| Missouri | $1,736,302,708.39 |
| Montana | $628,973,798.59 |
| Nebraska | $405,281,070.41 |
| Nevada | $416,666,229.74 |
| New Hampshire | $196,560,278.97 |
| New Jersey | $263,689,548.65 |
| New Mexico | $675,372,311.86 |
| New York | $664,618,251.49 |
| North Carolina | $1,532,999,481.15 |
| North Dakota | $130,162,815.12 |
| Ohio | $793,688,107.63 |
| Oklahoma | $797,435,691.25 |
| Oregon | $688,914,932.17 |
| Pennsylvania | $1,161,778,272.41 |
| Rhode Island | $108,718,820.75 |
| South Carolina | $551,535,983.05 |
| South Dakota | $207,227,523.92 |
| Tennessee | $813,319,680.22 |
| Texas | $3,312,616,455.45 |
| Utah | $317,399,741.54 |
| Vermont | $228,913,019.08 |
| Virginia | $1,481,489,572.87 |
| Washington | $1,227,742,066.30 |
| West Virginia | $1,210,800,969.85 |
| Wisconsin | $1,055,823,573.71 |
| Wyoming | $347,877,921.27 |
| American Samoa | $37,564,827.53 |
| Guam | $156,831,733.59 |
| Northern Mariana Islands | $80,796,709.02 |
| Puerto Rico | $334,614,151.70 |
| U.S. Virgin Islands | $27,103,240.86 |
The NTIA stated in their press release, "States, D.C., and territories will use funding from the $42.45 billion BEAD program from the Bipartisan Infrastructure Law to administer grant programs within their borders." The primary goal of the BEAD funding is to use it to deploy or upgrade broadband networks to help ensure Americans have access to reliable, affordable, high-speed internet services. When the deployment goals are satisfied, remaining funds may be allocated toward eligible access, adoption, and equity-related uses."
The NTIA has communicated that states, D.C., and territories (Eligible Entities) will receive their formal notice of funding allocation on June 30, 2023. As part of the Bipartisan Infrastructure Law, NTIA says "Eligible Entities have 180 days from the date of that formal notice to submit their Initial Proposals describing how they propose to run their grant programs." Initial Proposals may be submitted starting July 1st, 2023, and once the NTIA approves the Initial Proposal, Eligible Entities will be able to access at least 20% of their allocated BEAD funding.
BEAD Allocations Comments from NTIA and the White House
Secretary of Commerce Gina Raimondo said, "What this announcement means for people across the country is that if you don't have access to quality, affordable, high-speed Internet service now – you will, thanks to President Biden and his commitment to investing in America. Whether it's connecting people to the digital economy, manufacturing fiber-optic cable in America, or creating good-paying jobs building Internet infrastructure in the states, the investments we're announcing will increase our competitiveness and spur economic growth across the country for years to come."
"This is a watershed moment for millions of people across America who lack access to a high-speed Internet connection. Access to Internet service is necessary for work, education, healthcare, and more," said Assistant Secretary of Commerce for Communication and Information Alan Davidson. "States can now plan their Internet access grant programs with confidence and engage with communities to ensure this money is spent where it is most needed."
President Biden said today during his Live at the White House event, "This is a historic investment to connect everyone in America to high-speed internet by 2030. This is the biggest investment in high-speed internet ever. For today's economy to work for everyone, internet access is just as important as electricity or water or other basic services."
Source: The White House on YouTube.
"Put simply, high-speed Internet is a necessity in today's society," said Mitch Landrieu, Senior Advisor to the President and White House Infrastructure Coordinator. "Just like President Franklin Delano Roosevelt's Rural Electrification Act made a historic investment in rural areas bringing electricity to nearly every home in America, President Biden and Vice President Harris are committed to leaving no community behind as we connect everyone in America to high-speed Internet."
The Development of the New FCC National Broadband Map – How We Got the BEAD Allocations
Leading up to this point, the FCC and other stakeholders have worked diligently to create the first-ever location-level broadband maps to reflect where broadband service is and isn't across the U.S. to inform these BEAD grant allocations we see today.
As brought forth through the Broadband DATA Act, (which was enacted before the Infrastructure Investment and Jobs Act the BEAD program falls under) the FCC was required to implement a new data collection process, called the Broadband Data Collection, to more improve the accuracy of the nation's broadband maps. This new program required the FCC to create a location database called the Broadband Serviceable Location Fabric, to locate all Broadband Serviceable Structures across the U.S., collect more granular service availability information at each location, and allow the public to provide feedback on the collected information.
CostQuest Associates provided the FCC with the national database of all Broadband Serviceable Locations across the U.S., as defined by the Commission, called the Broadband Serviceable Location Fabric. The FCC used the Fabric location database as the foundation upon which they overlaid ISP service availability data to create their National Broadband Map. The NTIA was required by law to use the information in the FCC's National Broadband Map to inform each state, territory, and D.C.'s BEAD grant allocations that were announced today. Click here to learn more about the BEAD funding allocation process.
National Broadband Map Feedback
The FCC Chairwoman, Jessica Rosenworcel, highlighted in her opening remarks during the House Energy and Commerce Oversight Hearing last week, the National Broadband Map is "The most accurate broadband map in our Nation's history and it is designed to be iterative meaning that it is always improving."
The success of the second version of the National Broadband map has been acknowledged on both sides of the aisle. Senator Moran says, "After receiving feedback from Kansans, a second version of the map was released at the end of May, and I understand from talking with Kansans that is more accurate than before."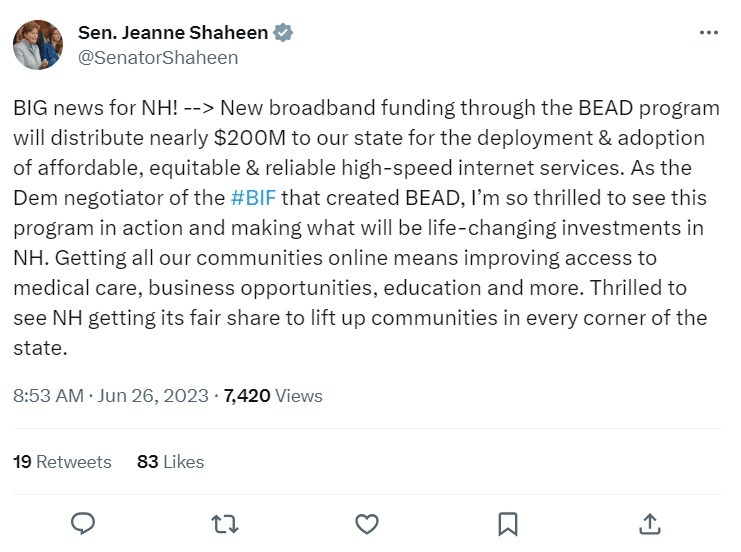 Source: Twitter.
Comments from CostQuest
Given the once-in-a-lifetime opportunity to invest in closing the digital divide, CostQuest has and is working tirelessly to provide the location data that ensures that government funds are being appropriated as accurately as possible. In the last year, broadband funding has moved from relying on service availability data reported at roughly 8 million census blocks to now relying on service availability reported at each of the 114 million Broadband Serviceable Locations in the United States. This change stemmed from the bipartisan Broadband DATA Act, which instructed the FCC to create a more granular picture of where broadband is and is not, which resulted in the creation of the National Broadband Map. We are proud to be a small part of this noble effort.
CostQuest has put tremendous effort into improving the Fabric location data through a rigorous self-challenge process. In addition to updating all underlying data that drives the process, improving machine learning models, improving efforts on large parcels, and locating additional datasets to further improve accuracy. From Fabric Version 1 to Version 2, the CostQuest team manually reviewed 21,000 square miles in Alaska and identified over 60,000 additional building footprints in U.S. territories. This has improved the identification of some of the most rural areas of the United States. Through these internal improvement efforts, CostQuest also added over 850,000 new BSLs to Version 2 of the Fabric location database.
CostQuest CEO Jim Stegeman concludes, "In Version 2 of the Fabric, we prioritized expanding and improving our data, with a focus on rural areas. We have gone to great lengths to make sure our Fabric data set is accurate, dedicating hundreds of hours of resources toward creating the most accurate underlying data and improving our processes."
Closing Remarks
Today marks a big day in history, as the historic investment in broadband infrastructure is announced to each of the states, D.C., and territories. Once the official notice of funding allocations is released from NTIA to the Eligible Entities, this will spark the start of the Initial Proposal phase of the BEAD program. When each entity's Initial Proposal is approved, they may start accessing at least 20% of their allocated BEAD funds.
Congratulations to the FCC, NTIA, and other stakeholders for their efforts to create and improve the FCC National Broadband Map, generate BEAD allocations, and set forth the BEAD program to help expand high-speed internet access to those who need it.
What an exciting time for the broadband ecosystem and CostQuest is looking forward to continuing to work with stakeholders to help close the digital divide for all Americans!
Sources
Disclaimer
This communication does not reflect the opinion or the policy of the National Telecommunications and Information Administration (NTIA). The NTIA is not responsible for the information or views in this communication and is not responsible for the accuracy, completeness, or timeliness of such information or views.
Continue Reading