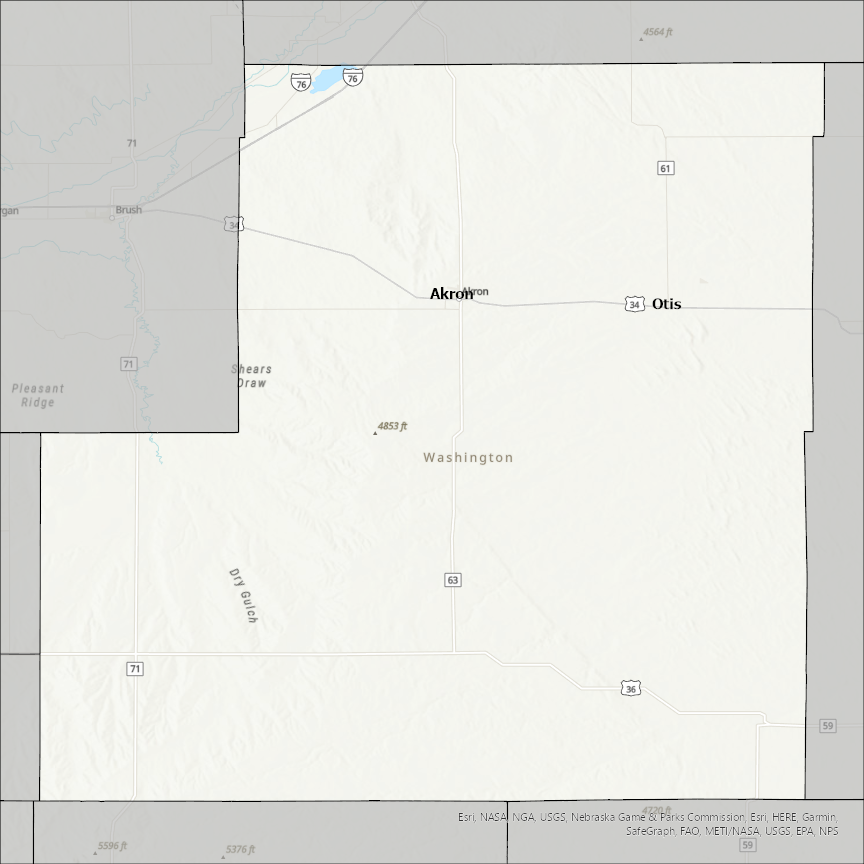 Washington County, CO GIS Data
Colorado
Washington county
CostQuest's BroadbandFabric data developed by broadband experts and blended with machine learning, is the perfect solution for the challenges broadband decision-makers face. CostQuest provides an accurate view of Broadband Serviceable locations (coordinates of structures eligible to receive service) that can universally tie to other key data attributes such as Service Availability, Engineering and Construction, Costs and Economics, and Demand and Demographics. Let CostQuest power your data-driven decision making with one-of-a-kind data built for the Broadband evolution.
Contact Us
Cities included
Citronelle
Millry
McIntosh
Chatom
Jackson
Winslow
Colorado City
West Fork
Venedy
New Minden
Nashville
Greenland
Elkins
Tontitown
Lincoln
Springdale
Prairie Grove
Johnson
Goshen
Fayetteville
Farmington
Elm Springs
Bethel Heights
Otis
Tilden
Hollenberg
Akron
Stonington
Westville
Bonifay
Ebro
Chipley
Caryville
Wausau
Vernon
Campbellsburg
Brighton
Ainsworth
Tennille
Sandersville
Riddleville
Oconee
Harrison
Deepstep
Davisboro
Keota
Weiser
Midvale
Cambridge
Richview
Radom
Okawville
Oakdale
Irvington
Hoyleton
Du Bois
Ashley
Addieville
St. Libory
Wamac
Centralia
New Pekin
Livonia
Saltillo
Salem
Little York
Hardinsburg
Fredericksburg
Borden
Palmyra
West Chester
Wellman
Washington
Riverside
Kalona
Crawfordsville
Coppock
Vining
Clifton
Greenleaf
Barnes
Washington
Palmer
Morrowville
Mahaska
Linn
Hanover
Haddam
Willisburg
Springfield
Mackville
Varnado
Angie
Franklinton
Bogalusa
Sun
Eastport
Calais
Williamsport
Smithsburg
Sharpsburg
Keedysville
Funkstown
Clear Spring
Hancock
Hagerstown
Boonsboro
Wyoming
Chisago City
St. Paul
North St. Paul
Maplewood
White Bear Lake
Scandia
Woodbury
Willernie
Stillwater
St. Paul Park
St. Marys Point
Pine Springs
Oak Park Heights
Oakdale
Newport
Marine on St. Croix
Lakeland Shores
Lakeland
Mahtomedi
Landfall
Lake St. Croix Beach
Lake Elmo
Hugo
Grant
Forest Lake
Dellwood
Cottage Grove
Birchwood Village
Bayport
Afton
Columbus
Lino Lakes
South St. Paul
Rosemount
Inver Grove Heights
Hastings
Arcola
Leland
Hollandale
Greenville
Metcalfe
Potosi
Mineral Point
Irondale
Caledonia
Cambridge
Argyle
Washington
Kennard
Herman
Fort Calhoun
Blair
Arlington
Omaha
Wann
Stillwater
Schuylerville
Whitehall
Salem
Hudson Falls
Greenwich
Granville
Fort Edward
Fort Ann
Roper
Plymouth
Creswell
Matamoras
Marietta
Macksburg
Lower Salem
Lowell
Beverly
Belpre
Skiatook
Collinsville
Vera
Ramona
Ochelata
Dewey
Copan
Bartlesville
Rivergrove
Banks
Gaston
Portland
Lake Oswego
North Plains
Tigard
Wilsonville
Tualatin
Sherwood
Durham
King City
Hillsboro
Forest Grove
Cornelius
Beaverton
Frankfort Springs
Bethel Park
McDonald
Jefferson Hills
Clarksville
Newell
Fayette City
Belle Vernon
Brownsville
Monessen
West Middletown
Twilight
Stockdale
West Brownsville
Speers
Washington
Roscoe
North Charleroi
New Eagle
Monongahela
Midway
Marianna
Long Branch
Houston
Green Hills
Finleyville
Ellsworth
Elco
East Washington
Dunlevy
Donora
Claysville
Charleroi
Centerville
Deemston
Cokeburg
Coal Center
Canonsburg
California
Burgettstown
Bentleyville
Beallsville
Allenport
Warwick
Jonesborough
Watauga
Johnson City
Unicoi
Bristol
Kingsport
Elizabethton
Carmine
Burton
Brenham
Toquerville
Washington
Springdale
Virgin
Santa Clara
St. George
Rockville
New Harmony
Leeds
La Verkin
Ivins
Hurricane
Hildale
Enterprise
Apple Valley
Northfield
Barre
Waterbury
Montpelier
Marshfield
Cabot
Glade Spring
Damascus
Saltville
Abingdon
Chilhowie
Bristol
Weirton
Shepherdstown
Harpers Ferry
Williamstown
Parkersburg
Prescott
Richfield
West Bend
Slinger
Milwaukee
Kewaskum
Jackson
Hartford
Germantown
Newburg
Menomonee Falls
Mequon
North Hudson
Hudson
Fill out the form below to get one-of-a-kind data built out for broadband!