TFI Technology Conference – Austin, TX
January 26 @ 8:00 am

-

January 27 @ 5:00 pm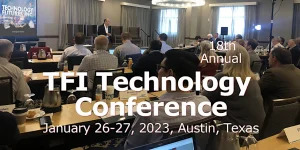 Jim Stegeman, President, and CEO of CostQuest will be speaking at the TFI Technology Conference in Austin, Texas on January 26th at 4:00 pm CST. Jim will be presenting during the "Broadband Progress Update" session providing an overview of federal programs such as the Broadband Data Collection (BDC), and the Broadband, Equity, Access, and Deployment (BEAD) program.
About the event:
At the event industry leaders and professionals will gather to share the latest trends and developments impacting communications and asset valuation. After two years online, TFI is pleased to meet together in person again. But for those that can't make it to Austin, there is an online option as well. The event will cover developments in wireless communications, broadband and video, network technologies, and a range of cutting-edge technologies coming onto the market. Making this another interesting and important event to attend in 2023.
If you plan on attending the event, CostQuest will see you there!