Overview of CostQuest's Fiber Business Case Model
CostQuest developed a Fiber Business Case Model of broadband costs and revenue to provide a full picture of the Business Case for Fiber deployment and ongoing maintenance across unserved and underserved areas.
The Model can be seen as a deep cost recovery analysis that provides details on the commercial viability of unserved and underserved geographies. The model assumes a 10 or 20-year business case that includes all aspects of deploying and maintaining an advanced broadband network across a geographic area.  This includes capital deployment costs (both initial and replacement), operations and maintenance costs, recurring revenue, and success-based capital costs related to a growing subscriber business.
High-level assumptions for the CostQuest Fiber Business Case Model
CostQuest uses its proprietary modeling platform and data to develop the key variables for this custom Fiber Business Case analysis.
As part of the Business Case Model data:
CostQuest will model the costs of the delivery of Fiber to each Broadband Serviceable Location included in the geographic area you select. This includes served and unserved locations.
The methods are consistent with the FCC's ACAM and CACM models.
With this data you will receive:
Fiber Investment:
Fiber Cost model data at the Broadband Serviceable Location level for a typical FTTP (fiber to the premise) build-out. Includes an estimate of initial investment, plus the success-based capital to connect active customers. The Fiber Cost Model data is based on a designed network from CostQuest's CostPro (autodesign) model that creates an efficient build-out using the latest technology and cost assumptions.
Operations and Maintenance Costs:
The costs for maintaining and operating the Fiber network business for all areas will include ongoing, monthly OPEX and CAPEX.
Revenue Assumptions:
CostQuest has established base revenue assumptions for the Model. It is assumed that the default scenario will be $52.50 per location passed (assumed that the average revenue per active customer is $75.00 and that we have a 70% take rate – this in turn indicates a $52.50 revenue per location passed) unless otherwise requested for a custom model run.
Success-based capital costs
Receive the success-based capital costs related to a growing subscriber business.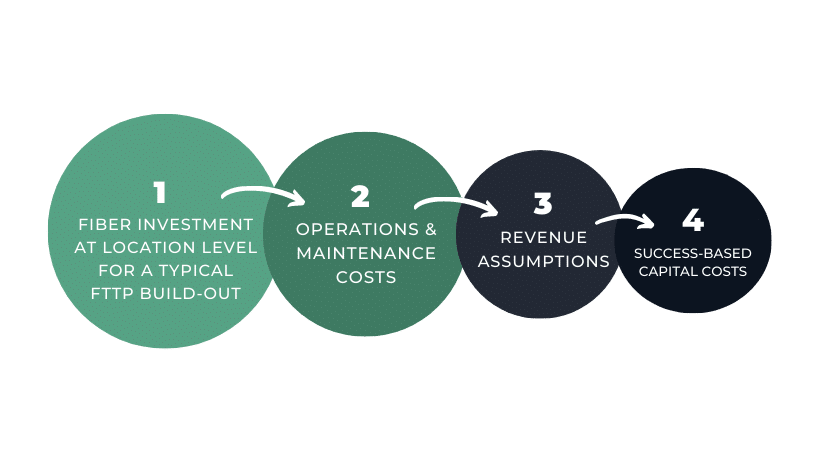 Business Case Model Versions
CostQuest provides two separate alternatives for the delivery of its Fiber Business Case Model, giving users options for the level of detail and sophistication of the model parameters and resulting output.
Standardized Output
CostQuest has developed a dataset that provides the Fiber Business Case output for each and every location across the U.S. The standardized output gives users a look at commercial viability and the needed funding for cost recovery at a Broadband Serviceable Location level. These results are consistent with the FCC's ACAM/CACM models.
Custom Geographies
CostQuest can work with customers to build the Fiber Business Case Model to a custom geographic area. This allows for a network design bound to a service boundary and is optimized to support the clustering of demand within that area. The results are generally considered to more closely replicate an engineered network design in serving a defined area.

Get a business case you can count on
Learn more today