What is Broadband Serviceable Location Data?
CostQuest's BroadbandFabric Serviceable Location Data is the first database built specifically to identify structures eligible to receive broadband service. Also referred to as "broadband-serviceable locations."
In broadband deployment projects, providers must know exactly where a structure is in order to provide that link to broadband service. To get pinpoint accuracy for all locations, we aggregate hundreds of millions of data points, apply statistical scoring, and managed crowdsourcing to identify the precise locations of virtually every structure that is a candidate for broadband.
Precise data-driven decisions with best in class Broadband Serviceable Location data
CostQuest's BroadbandFabric Data Suites
Each BroadbandFabric Data Suite contains a collection of data delivered to you as a .CSV dataset that easily imports into any major GIS or visualization software. These Data Suites are built specifically to support your team through various broadband initiatives.
The FCC recently awarded CostQuest the Broadband Serviceable Location Fabric (Fabric) contract to solve location accuracy issues and provide the foundational data to support a National Broadband Map. This Broadband Serviceable Location Fabric data will be vital to closing the Digital Divide.
Using our core Broadband Serviceable Location data tied directly to federal broadband initiatives, we created the BroadbandFabric Data Suites to continue supporting governments and the communications industry in their broadband expansion initiatives. The BroadbandFabric Data Suites are a collection of unique datasets first of their kind to guide broadband deployment, business planning, and policy decisions.
Each dataset contains Broadband Serviceable Locations at the coordinate level and universally ties with critical data such as broadband availability, funding eligibility, cost, demand, demographics, and MORE to help decision-makers achieve success through the lifecycle of their broadband projects. Especially for those participating in Infrastructure, Investment, and Jobs Act BEAD and other broadband funding programs.
Your complete guide through the Digital Divide
You can leverage BroadbandFabric data to build a broadband availability map, inform network plans, designs, financial modeling, manage a broadband program, funding determination, opportunity assessments, and regulatory filings involved with broadband deployment projects. If you're not sure which BroadbandFabric Data Suite is best for your team's needs, we're happy to help match you with data that is right for your project.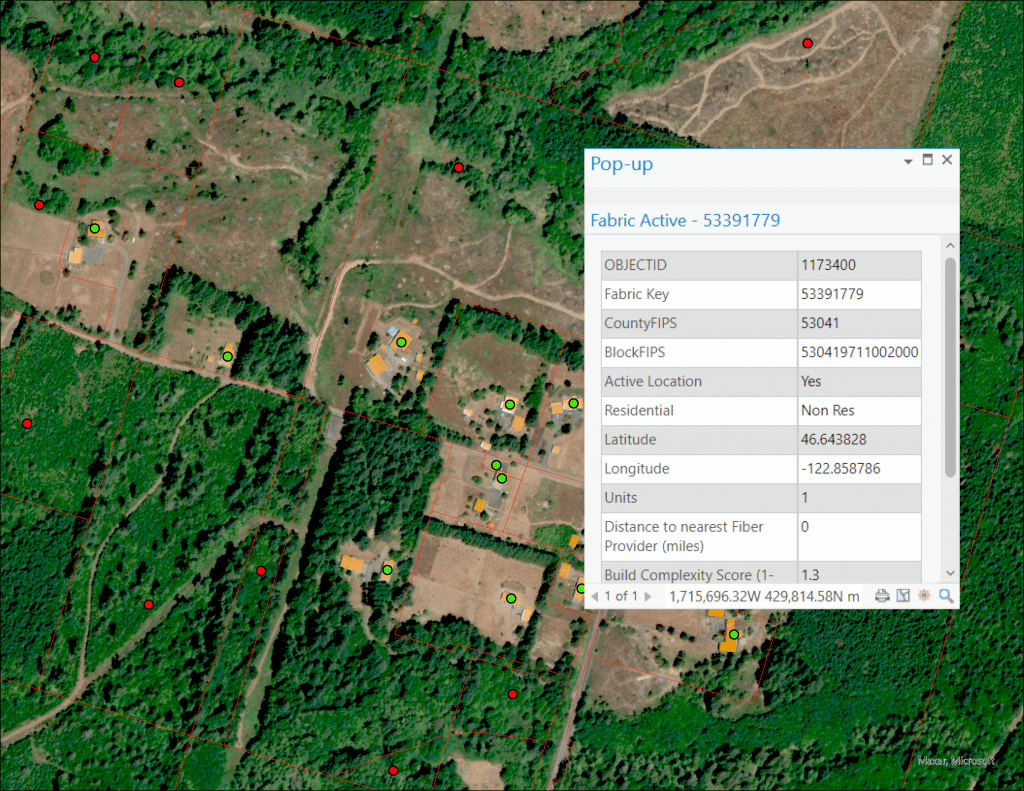 Get broadband-specific data
The BroadbandFabric Data Suites were developed by broadband experts and data scientists with deep roots in broadband economic network modeling and mapping. Each Broadband Serviceable Location we identify is a residential or business structure where a broadband connection can be installed. Our Broadband Serviceable Locations and rich data layers are NOT for insurance or real estate projects. The BroadbandFabric Data Suites were designed to support broadband initiatives.
Confirm geographic accuracy
This data provides geographic placement for each Broadband Serviceable Location – pinpoints serviceable structures through highly accurate latitude and longitude coordinates, with visual verification used for added confidence.
Easy import & interoperability
All BroadbandFabric datasets come in a .CSV, .KMZ, or .KML file format to import into any major GIS or engineering software. Integrates easily with other data by using H3, with is a universal location identifier that can support referencing other datasets with the BroadbandFabric data.

See locations eligible for funding
This data provides the locations that fall within areas covered under federal funding programs, such as the Infrastructure Investment and Jobs Act BEAD program, CAF, RDOF, ARA, and more to leverage for the expansion of broadband services.
Receive data in 3 easy steps
Step 1
Identify area(s) of interest
Tell us the state or county you need broadband data for and we'll set you up with a sample.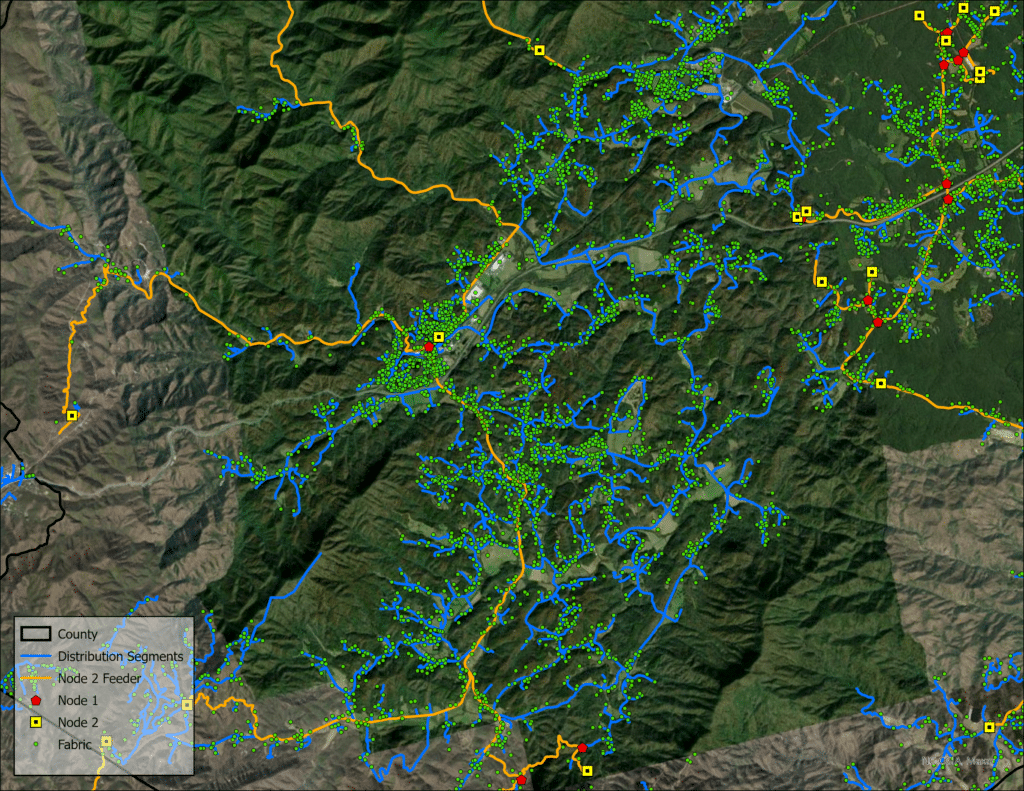 Step 2
License the data you need
When you're ready, license data for your areas of interest and receive data via a secure portal. Choose a 1, 2 or 3 year license duration, with a minimum order size of a US County.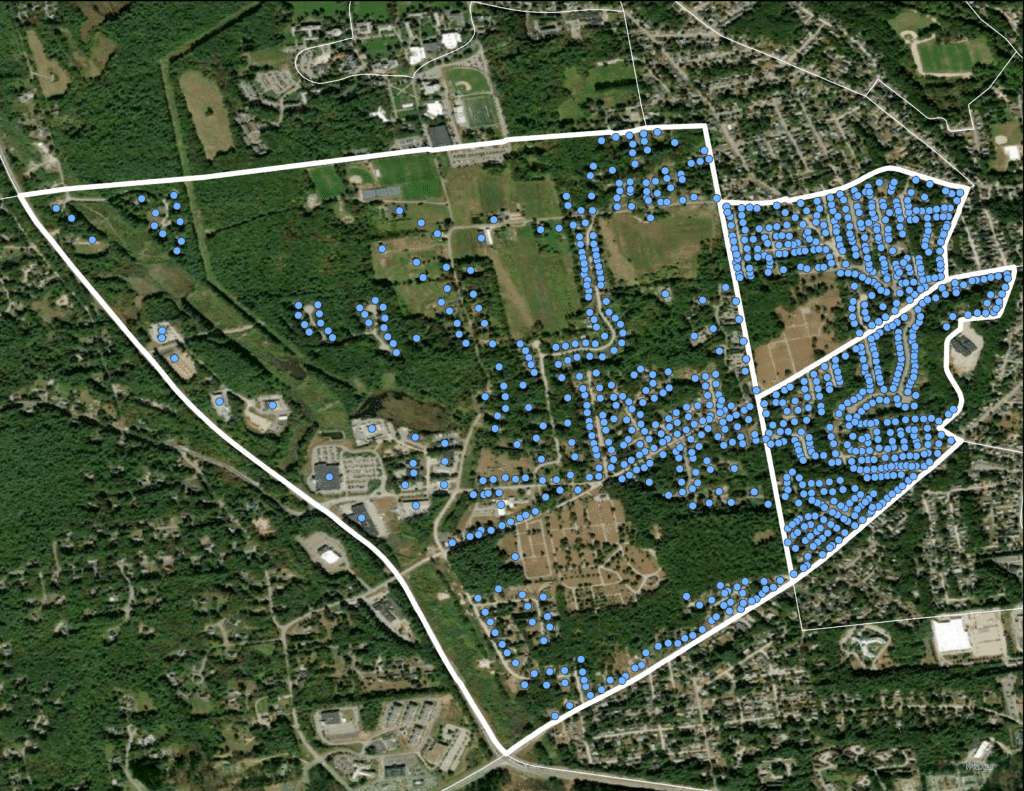 Step 3
Import-ready data files are delivered securely
We'll deliver files via a secure portal, in a supported file format*, and give you a crash course on how to interpret the data. All orders come with access to our customer success team, to ensure you have what you need.
*We can export data into the following formats: .CSV, .KML, .KMZ. There is no additional charge for any format.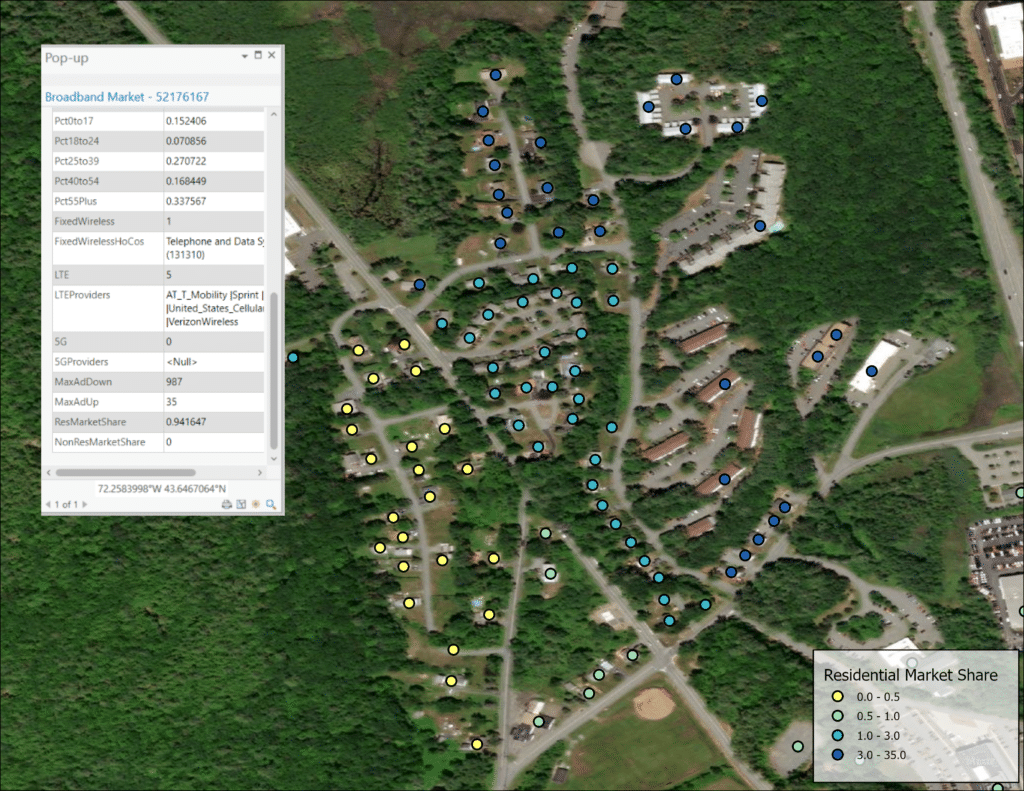 Curious how BroadbandFabric data can support your project?